Rates
Rates:
$60.00 per hour for 1 person ($300 for 5 hours)
$70.00 per hour for 2 people ($350 for 5 hours)
$80.00 per hour for 3 people ($400 for 5 hours)
5 hour minimum
3 person maximum. For more than 3 people, call 707-349-6797 for special accommodations.

I can provide live bait at an additional cost. 
Jumbo Live minnows  are available year round at a cost of $12.00 per dozen. 
I recommend at least 3-5 dozen as the action on live bait is outstanding.
Fishing for crappie requires smaller live minnows at a cost of $8.00 per dozen.

Payments of cash or check only please         
Bird watching and sightseeing trips on Clearlake are also available. 
Please call for pricing and availability. 
Jeremy Taylor's catch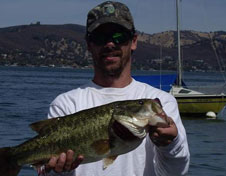 I caught this bass on a plastic frog during the middle of the day. Topwater frog fishing is best during the Summer and Fall. 10 to 20 blow-ups per day are common with size ranging from 2-10 lbs.